About Mortal Kombat Online

Since launching in 1998, Mortal Kombat Online has been a primary source of information and discussion for the entire MK community and fanbase. As one of the largest and longest running MK sites on the web, Mortal Kombat Online has led the way with comprehensive coverage of games, media, and merchandise, to remain a frequent first-choice for fans and licensers alike.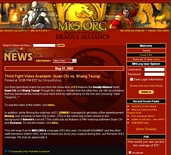 Founded and established by diehard MK enthusiasts; the website first launched in 1998 as the fondly remembered "MK5.org." Named for then-contemporary series numeric, the site focused heavily on speculation and anticipation for a sequel to 1997's Mortal Kombat 4 -- years that would become the most uncertain period in the franchises history.

For internet users of the late nineties, the site quickly became a vital source, establishing a thriving community around information and creativity. Entering the exciting age of the new millenium, news of a long awaited fifth instalment would further confirm the connection between Mortal Kombat Online and the games themselves. The site would begin its long association with Midway Entertainment and the Chicago Team who make the games, providing exclusive updates, content, first-run material and fan interaction. This long lived partnership would include some of the first dedicated Mortal Kombat coverage from conventions and live events, such as multiple annual iterations of; E3, Midway Summer Gamers Day, Game Stars Live (in London), Wizard World, and live Midway events.

Relaunched in 2004 as the trusted name it is today, Mortal Kombat Online had well and truly exploded beyond its speculative days, to be acknowledged as the world's largest dedicated Mortal Kombat home on the web. The success of MK Online has often dwarfed even official websites for the games, leading to appearances in magazines and popular online outlets, such as IGN. Google "Mortal Kombat" today, and you will find Mortal Kombat Online right where it belongs, among the very top results. Moving with the times, the MKOmmunity has expanded to include popular extentions on Twitter, Facebook, YouTube and Google+. Mortal Kombat Online also hosts popular specialist destinations: MKWarehouse and The Kombat Pavilion.

No matter the era, Mortal Kombat Online remains dedicated to the coverage and examination of all things Mortal Kombat. The legacy of MK Online can be felt in every site that has come since. With a proven record and established reputation for some of the most expansive and expert analysis, MK Online continues to strive to be a reliable authority and valued destination for the entire community.

Mortal Kombat Online currently provides preferred content and direct updates from; NetherRealm Studios, Pop Culture Shock Collectibles, Jazwares and many more. For formal enquiries or promotions, please refer to Webmaster contacts above. General enquiries and comments can be sent to: mail@mortalkombatonline.com.
Site Administration

Mick-Lucifer (Webmaster, Senior News Editor)
Contact: mick@mortalkombatonline.com

CCShadow (Co-Founder, Administrator)
Contact: admin@mortalkombatonline.com

Knightmare (Co-Founder, Marketing Director)
Twitter: @Scott_MKO

D'Arque Bishop (Sysadmin)
Contact: drkbish@mortalkombatonline.com

Site Staff

Fatalkade (Director of Brand Strategy)
Twitter: @MKO_FataLKaDe

Survived Kombatants (Live Content Manager)
Twitter: @SurvivedKombat

m0s3pH (Community Manager)
Contact: m0s3pH@mortalkombatonline.com

FANTiM (Realm Kast Host)
Contact: realmkast@mortalkombatonline.com

Yani (Realm Kast Host)
Contact: yani@mortalkombatonline.com

]{0MBAT (Contributing Editor)
Twitter: @tabmok99

DemonKing (Fight Klub Ambassador)
Twitter: @RaidenThunder89