Kitana in the moonlight.
Kitana prepared for a fierce battle under the moonlight.
submitted
01/27/2019 08:57 PM (UTC)
by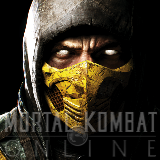 DigitalNinja
© 1998-2023 Shadow Knight Media, LLC. All rights reserved. Read our
Privacy Policy
.
Mortal Kombat, the dragon logo and all character names are trademarks and copyright of Warner Bros. Entertainment Inc.