The klues have taken us deep into the jungle and now Mortal Kombat 11 Ultimate has us right where it wants us! Three new downloadable characters are confirmed for Kombat Pack 2 which will be available as downloadable content, or as part of a 4K next generation console release! Watch the reveal trailer for all the gory details:
That poor Tarkatan never stood a chance as Rain and Mileena step back into the kombat arena, with special guest movie character John Rambo confirmed as your worst nightmare with the authentic likeness and voice of Sylvester Stallone! The trio of fighters will make up the long anticipated Kombat Pack 2.

Mortal Kombat 11 Ultimate will compromise the complete works of the MK11 base game, MK11 Aftermath, and Kombat Packs 1 & 2, bringing the playable roster up to a whopping 37 characters, with dozens of extra skins, arenas, and more!

MK11 Ultimate will also bring visual enhancements, 4K dynamic resolution, significantly reduced loading times, and cross-generation cross-platform play to the PlayStation 5 and Xbox Series consoles. if you purchase MK11 or Ultimate on either PS4 or Xbox One you will also be able to access a free equivalent on PS5 and Xbox Seres S/X.

Digital pre-orders for Kombat Pack 2 and MK11 Ultimate will go live October 15th. New players can buy MK11 Ultimate for $59.99, granting immediate access to all MK11, Kombat Pack, and Aftermath content. A $14.99 Kombat Pack 2 upgrade will also be available separately, released digitally November 17th for PS5, PS4, Xbox Series, Xbox One, Nintendo Switch, PC, and Google Stadia.

Pre-orders will also gain access to the Time Warriors Skin Pack at launch, with "Dark Web" Noob Saibot, "Halt and Catch Fire" Liu Kang, and "Blood Moon" Skarlet.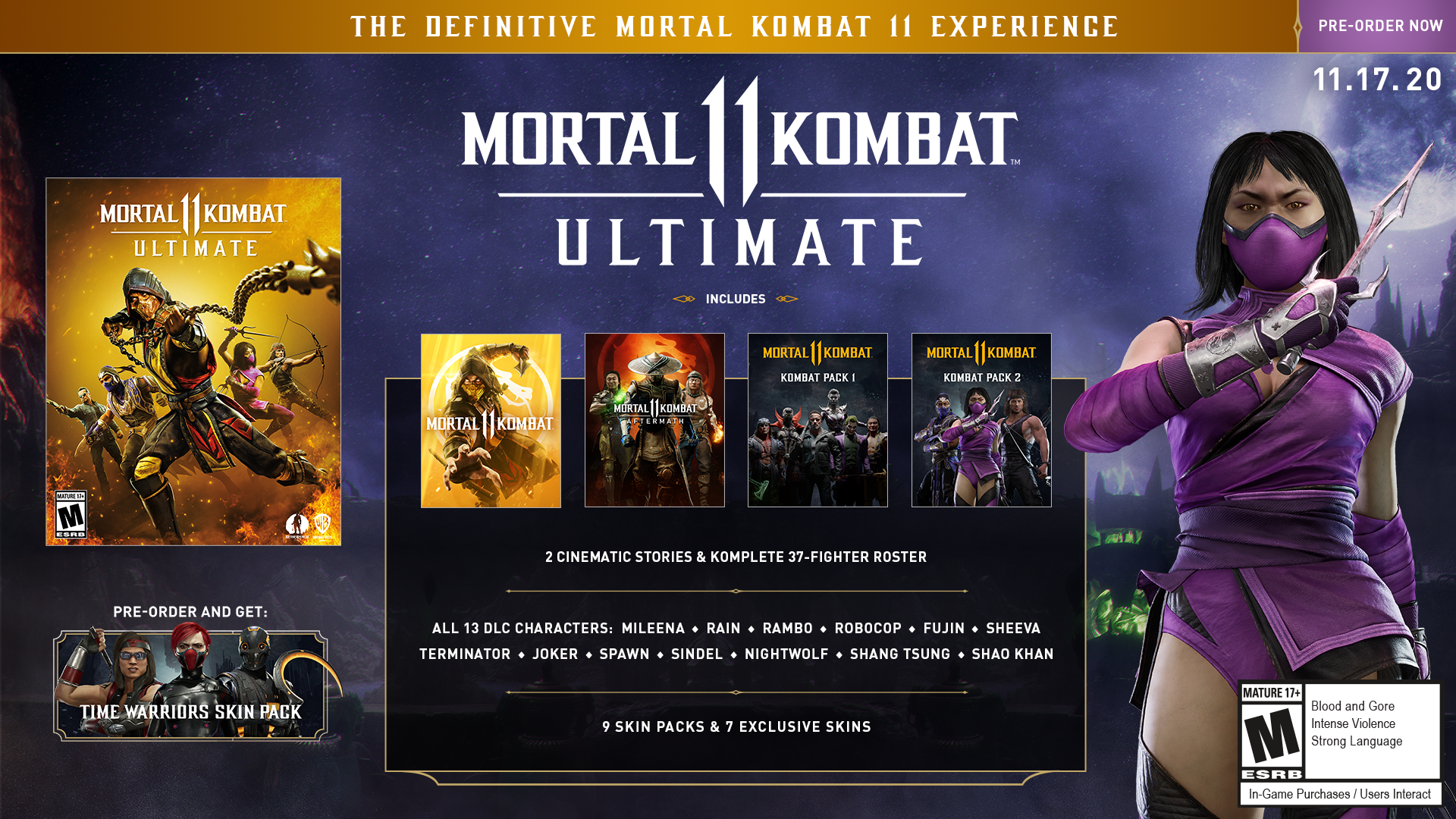 Please note: Physical copies for PlayStation 4 will be delayed in the Americas until January. MK11 Ultimate will only be available digitally for PC and Stadia, and on Nintendo Switch in the Americas.

What do you think of the Ultimate upgrade? Draw first blood and share your thoughts about the Kombat Pack 2 fighters and MK's step into the next generation in the comments below. Continue fighting your personal war on the Mortal Kombat 11 forum for more topics!