NetherRealm Studios has announced it will no longer allow games to be utilized by eSports organizer WePlay after a single season of Mortal Kombat 11 competition in the "Ultimate Fight League". The announcement was made amidst controversies surrounding the fledgling, cash rich tournament organizer. Read on for details:
The developer posted a statement to Twitter yesterday citing a commitment to serving fans and "differences in vision" with the Ukraine hosted oraganization, who entered the eSports market late last year with an injection of cash incentives that attracted several top players.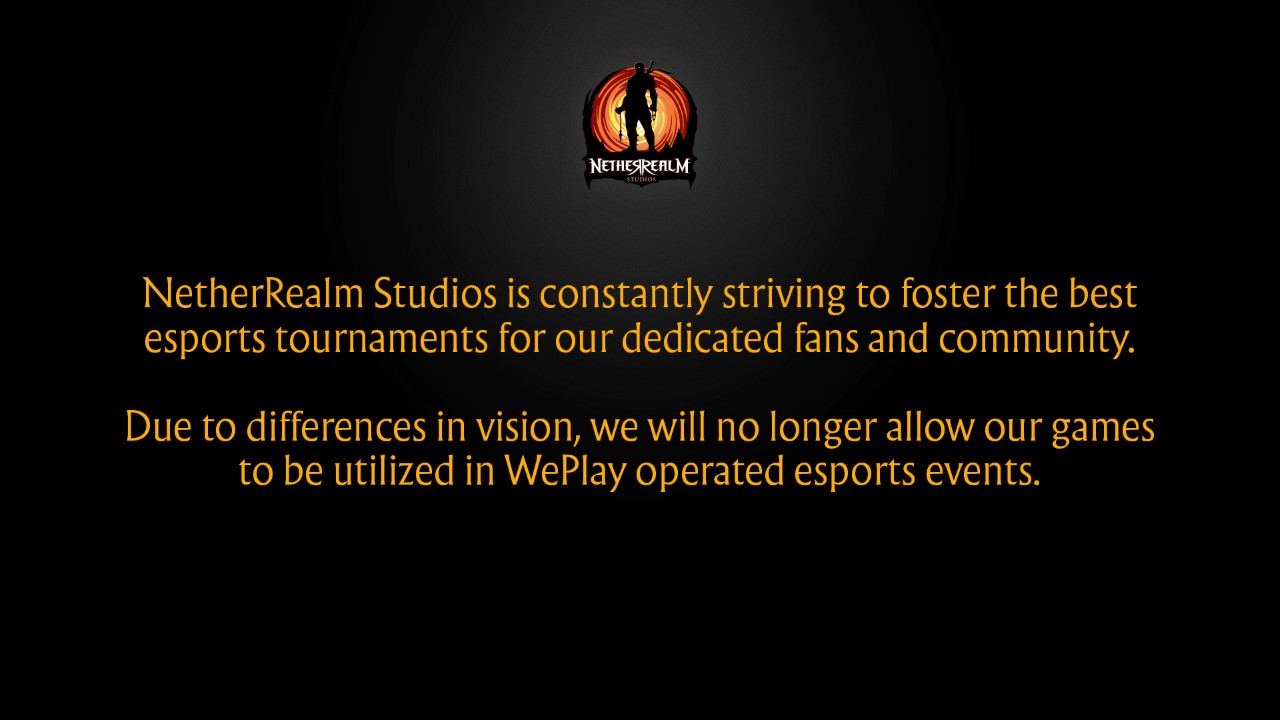 Competitive staples SonicFox and Tekken Master took top spots in the Mortal Kombat 11 competition held in Kiev in March, splitting $25,000 between them from a total $150,000 prize pool. The source of WePlay's abundant funds is speculated to be part of the problem.

Kotaku reports a controversial deal with Russian gambling site 1xBet as a mounting cause for concern for observers. A report by The Sunday Times documented various practises that led to a suspension of business in the United Kingdom, including gambling on children's sporting in Kenya, and advertising on illegal streaming websites.

Tekken 7 and Soul Calibur VI developer Bandai Namco joined NetherRealm Studios in the boycott, almost simultaneously releasing their own social media statement with similarly vague reasoning, adding "professional standards" to almost identical phrasing. WePlay Ultimate Fight League posted a response calling the development a surprise.
| | |
| --- | --- |
| | |
In a statement to Esports News UK, Weplay stated "We are aware of the fact that 1xBet does not operate in certain countries.. 1xBet has assured us that the brand abides by all the relevant laws and regulations in every jurisdiction in which it operates."

Final Round tournament organizer Josh "Icege" McWhorter gained traction earlier in the month when he expressed speculative concerns over potential links between 1xBet and organized crime, and the implications of WePlay's deal with the company. These claims appear unverified at this time.

The boom in spending has seen eSports develop rapidly, following and pioneering models employed in professional sporting competitions, but lacking in the organized independent regulation associated with monitoring and upholding standards and practises in sport, and other industries. Catering to a niche where the lines between players and fans are blurred, the field has been ripe for corruption and controversy.

Esports News UK reports that former NetherRealm partner, ESL, is investigating and reviewing their sponsorship with 1xBet. ESL took steps toward eliminating doping in eSports with a drug testing program in 2015, but the ethics of gambling advertising in this space remain a topic awaiting further examination.