If you've been tuned to Mortal Kombat Online on Twitch or YouTube you know the weekend is all about heavy metal and Mortal Kombat 11! For the last ten weeks Survival Saturdays has separated PlayStation wannabes from worthy warriors in uncompromising, unrelenting King of the Hill competition. Now Season 7 reaches its grand climax with four chosen kombatants facing off in an electric endurance eliminator: Ultimate Survivor II!
The Ultimate Survivor action kicks off later today streaming live to Twitch at 5:00PM PDT. The featured format will pit opponents against one another in a First to 10 King of the Hill enduro heat, with the two winners advancing to a First to 5 final showdown to prove who reigns supreme as the Ultimate Survivor for Season 7!

In preparation for the event MK Online talked to two of the kombatants who'll compete in each of the opening matches. VENOMCARNAGE777 returns from the inaugural special to settle unfinished business, while the man of few words Bowzersbuddy steps into the Ultimate Survivor fire for the first time. We talked tactics, conditions, and what to expect from the contest.
VENOMCARNAGE777, you participated in the first Ultimate Survivor superfight. What was that experience like?
VENOMCARNAGE777: It was incredible. It was an honor and a surprise to be one of the two players invited, and it's no different this time around. Seeing how much work Survived puts into these things behind the scenes is a real treat.

Bowzersbuddy, you were one of the first combatants considered for Ultimate Survivor II. Do you feel adequately prepared for the challenge ahead?
Bowzersbuddy: Being one of the first considered is an honor for sure. That means I have been getting people's attention and hopefully come Saturday I can show that I belong here and I'm not going anywhere.

Can you give readers insight into how the Ultimate Survivor format differs from standard competition? Does it change your approach?
B: Survivor format is definitely an up hill battle for the winner of each match. Having to keep your health from the last fight can definitely make it tougher to keep the wins.

V: The Ultimate Survivor format certainly differs quite heavily from any other "standard" competition or tournament. For one, all moves are legal. Things that are usually banned in tournament like Robocop's Trick Shot and Rain's Wave Dash are completely fair game. And this time around, it's more of a miniature invitational tournament rather than a single First to 10. Not to mention this all takes place in a Survivor lobby, which adds a unique element to the whole thing. It encourages the players to land those Fatal Blows, Fatality their opponents, or if they're really feeling confident, to disrespect with the Mercy to gain back any extra health they can.

It flexes a different type of muscle that I don't very often have to use in Mortal Kombat. Self preservation. The fact that it all takes place in a survivor lobby changes my approach a decent amount. I try to play a bit safer because every little bit of health counts. Usually I play faster and looser, doing whatever it takes if I think it means getting the win, even if I only have one HP left on the board. I can't do that here. I have to play a little bit more reserved. That adds to the pressure as well.

VENOMCARNAGE777, you suffered a hard fought 7-10 defeat against Red Eyez IV XX. Do you feel you have something to prove coming into this weekend's event?
V: My goals for entering the tournament is to above all else put on a good show, but I want that title. I wanna be the Ultimate Survivor. I have much love for Red Eyez, but if I win this thing, I definitely want a rematch.

This time your path to Ultimate Survivor victory will require defeating TWO opponents. Will this change your approach to the weekend at all?
B: No, I love to fight so the number of opponents means nothing to me. Special preparations include the lab...

V: Not really. I'll take it one fight at a time. If I don't do well one game, I shake it off and reevaluate what I can do next that my opponent wouldn't expect. I make sure I'm in the right mindset. The competition mindset. That this is the real deal and that I got this. Make sure that I know all my options with all the characters that I play. I warm up a little bit, but not too much that I'm spent before it begins. I make sure my hands are dry, my controller is ready to go, and then it's game on.

VENOMCARNAGE777, your first opponent this weekend is Fight Klub's #1 ranked fighter: Jaceri. Does that concern you at all?
V: Concern me? Not really, but I know who I'm up against. We've fought before. It'll be an uphill battle, but one I'm looking forward to. I wouldn't be fighting if I didn't have confidence I could win. He's a good fighter for sure, that much is evident, but he can be defeated. I've got a lot of respect for him. I know how he plays, who he plays, and his overall play style. This isn't our first face off, but it will be our first fight in a truly competitive setting.

I've researched my opponent as much as I believe I reasonably need to. The Fight Klub system has helped show me what I'm up against, and with the detailed match analysis, it shows you the timeline of every single Flawless Block, Wakeup Delay, Krushing Blow, you name it, so I've been able to take a look at how he approaches different situations and what patterns he can fall into.

Bowzersbuddy, your first opponent has been #1 on the Survival Saturday's leaderboard for 7 consecutive weeks: TimezInfinityx. Does that concern you at all?
B: Well timez is number 1 on the leader boards for a reason. My impressions of the little bit I've seen of timez is... very mix heavy and doesn't let up on the pressure. So I hope I can keep my defence on point.

TimezInfinityx's go-to character is Skarlet. Are you ready for what that character brings?
B: Fought plenty of Skarlets, so I know what to expect, but just depends on who's using her. Tactics? Of course, but we will see.

How about you, VENOMCARNAGE777? Jaceri's go-to characters are Jade and Kung Lao. Are you prepared?
V: For the most part. His Jade is very very solid. To this day I am still workshopping how to break through his impeccable defense with Jade, but I have a few ideas. As for his Kung Lao, he likes to be in the air. What Lao player doesn't? The key is to deny him that airspace, not let him in close, and to keep him at bay. If he gets corner control with Lao. It's a tough and grueling fight to get out of it. If need be I'm ready to break out some characters that he might not be expecting.

The way he plays Jade is both incredibly defensive and offensive almost at the same time. It's very easy to overextend against him. It's on me to find the right balance between blocking and taking the punches, and when to push up and put the pressure on him. His Kung Lao is scary up close. That's where my job is to keep him out of my face and under no circumstances give him corner control.

Bowsersbuddy, right now you're ranked #5 in Fight Klub. Jaceri is one of the opponents you could face in the final battle. Is that on your mind?
B: Jaceri is definitely a threat, but so am I. First rule of Fight Klub is we dont talk about Fight Klub. Venom is another threat and I believe it could easily be him I face if i take the first set

Ultimate Survivor will allow the use of banned moves. What do you think about this? Will you be looking to exploit this or play it straight?
V: I think it's very "on brand" for SurvivedKombatants. He's very much a guy who throws restrictions to the wayside. He just wants a good show, and if he believes that allowing tournament banned moves are going to add to the hype, he'll do it. And I agree. It's perfect for an event like Ultimate Survivor. I've experimented a little bit with the banned moves like Robocop's Trick Shot, but I don't think it has a place in my kit this time around. I'm confident in the way I play him normally that I won't deviate much from my usual course. Overall, I don't think I'll be utilizing any of the normally banned moves, but I'm interested to see if anyone will put them to use.

What will make you the Ultimate Survivor? Can you give us a little preview of what to expect?
B: What will make me the ultimate survivor? My determination to be number 1 so I guess we will see. Preview? [puts finger over lips]

V: My determination. I want to walk away being the Ultimate Survivor. The last one on top. I'm gonna do my damndest to make it happen. Against Jaceri, my main man Noob Saibot has struggled against him in the past, but my Robocop has had some better luck. If he's on Kung Lao I'll probably go with Robocop to keep him out of my face and zone as best I can. If he plays Jade and my Noob isn't working, I may have to break out an old tried and true character. A big body character that would let me have a little bit more time.

Do you have a message for your opponents?
B: Don't give me the chance to punish you, 'cause you'll regret it. [laughing]

V: Simply: Your SOUL.... is mine.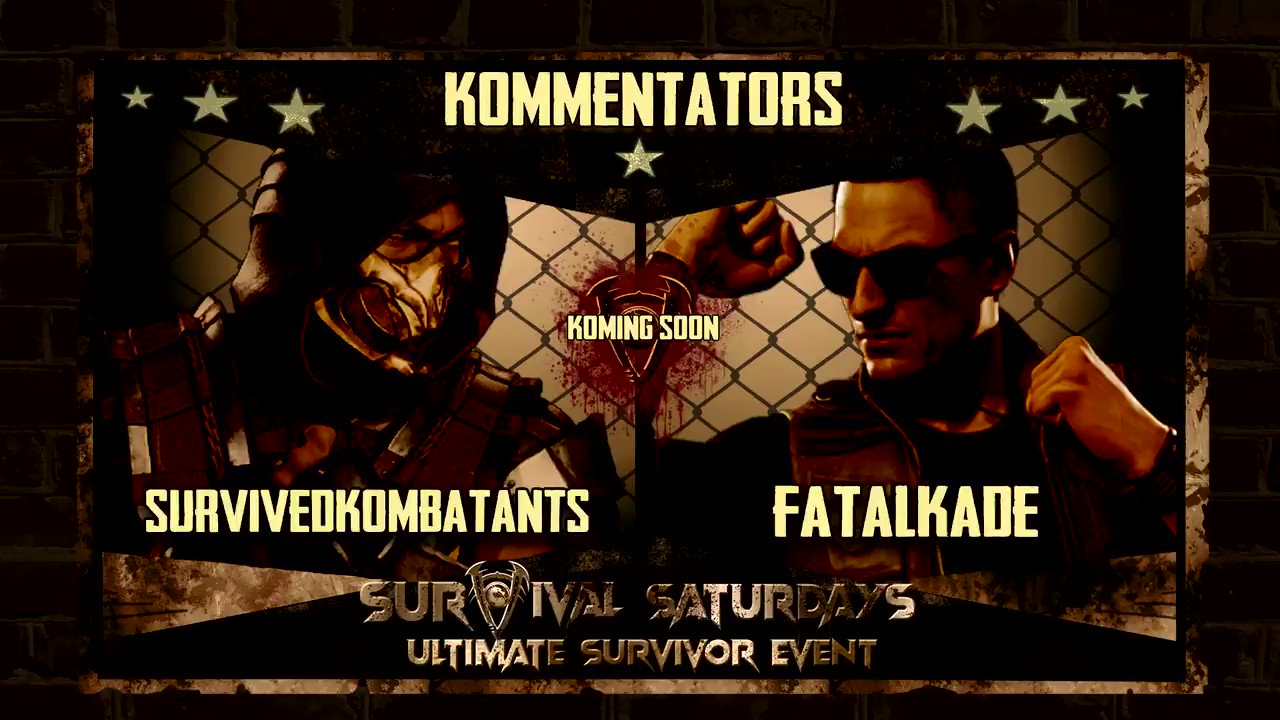 Stream time begins 5:00PM PDT (8:00PM EDT) on the MKO Twitch channel with MK Online Stream Team Survived_Kombatants & FatalKade on commentary. There'll also be a trailer and details for Survival Saturdays Season 8 with new MK Online Killer Kuts music by Redvard Dolański and contributions from TQT1995! Don't miss it!