As the years march on the story of Mortal Kombat and its continued runaway success only grows more interesting and legendary. For author David L Craddock: the saga has inspired a wealth of material for his book Long Live Mortal Kombat Round 1 and now he's seeking to source funds from the very fandom he has written about to complete the ultimate printing. Read on for details:
Craddock has written extensively about video games, authoring the Stay Awhile and Listen series about Blizzard Entertainment, and is seeking a target goal of $10,000 to complete finalized printing, editing, and distribution of his book Long Live Mortal Kombat Round 1: The Fatalities and Fandom of the Arcade Era.

You can hear it all in his own words in the pitch video embedded below, and discover how you to get involved in the already booming Kickstarter campaign, which has reached more than 80% of its goal in a matter of two days.
The first in a planned trilogy of titles; Round 1 covers the arcade era of the series, spanning the original Mortal Kombat -- which celebrates its 30th anniversary later this year -- through to Mortal Kombat 4. Along with striving to be a definitive tome of the series' behind the scenes history, it also differentiates its perspective from others by examining the fandom that has stayed with the series, and the cultural phenomenon spawned from playing and enjoying the games.

Reward tiers include multiple versions of the book, including an Ultimate Hardcover Edition filled with full colour photographs sourced from fans, and even an audio version. Content for each goal can be seen below, along with cover art of the two editions.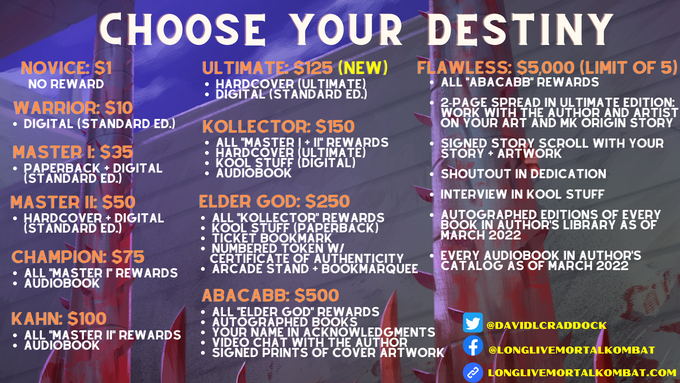 Did you contribute backing to Long Live Mortal Kombat? Tell us all about it in the comments below and delve deeper into nostalgia in the 2D Kombat Klassics and 3D Kombat Klassics forums for more retro revival!