By now you know Johnny Cage doesn't properly appear in the new Mortal Kombat movie, but the door is certainly opened to the fan-favourite fighter -- and WWE wrestler Mike "The Miz" Mizanin is petitioning to be the man who brings the Hollywood martial artist - turned defender of Earthrealm - to the big screen in a sequel.
Having starred in four WWE produced direct-to-video sequels in The Marine series; Mike Mizanin has at least a little bit of action movie credit under his belt. The Real World contestant turned wrestler is a far cry from the charismatic Jean-Claude Van Damme inspired martial arts moviestar of the Mortal Kombat video games -- but as critics will attest, the new movie isn't the video games.

The Miz went went straight to Twitter after the official release of the movie to make his case, earning attention with some digital fan-art and a short message: "No Johnny Cage? I AM the special effects. Let me do the casting for you. Say cheese #MortalKombat @MKMovie @noobde"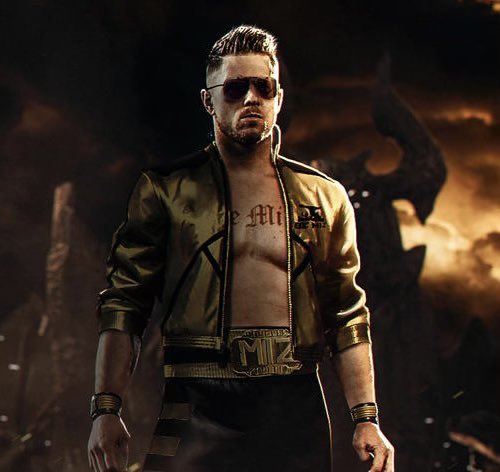 The Miz is notorious for his jerky WWE heel persona, whose acting experiences went straight to his head, and belie his successes in the ring, which have included a controversial WWE Championship defense against John Cena in the main event of Wrestlemania.

He typically trades on being an arrogant ass with a face you'd love to slap even when its behind sunglasses. Quite a contrast to the self-centered but loveable rogue who won the hearts of gamers and Sonya Blade. Still, he does have those sunglasses, and that was enough to get a nod from co-creator Ed Boon: "Guy makes a compelling case".

The worlds of professional wrestling and Mortal Kombat continue to collide. Former UFC and WWE Champion Ronda Rousey provided the voice of Sonya Blade for Mortal Kombat 11. The new Mortal Kombat movie also enlists short-lived WWE star Nathan Jones as the hulking brute Reiko.
[Related Article: Mortal Kombat Producer on Johnny Cage & Rain Omissions]
Sub-Zero actor Joe Taslim submitted stuntman and martial arts actor Scott Adkins for consideration while appearing on the Ip Man 4 actor's webshow. Do you think either of these men have what it takes? Share your thoughts on fan casting in the comments below and find more to discuss on the Media & Merchandise forum! Mortal Kombat is now showing in theatres and streaming to HBO Max in the United Sates for 31 days!