The tradition of character bios has been upheld for Mortal Kombat 11 with an update to the official website revealing more about our favourite fighters! Sixteen of an available twenty-nine total characters have been filled in, including pre-order exclusive Shao Kahn. Read on:
Some fans noticed the page go live earlier in the week, before it was removed for a timed reveal. Some of the locked slots on the character menu are noticeably faded, fuelling speculation over secret or downloadable characters. Most entries are packaged with trailer highlights and render artwork already released for each character. D'Vorah is most noteworthy for substituting video for a partial alternate character render more reminiscent of her Mortal Kombat X appearance. Each fighter is summed up with a single word (included in parenthesis below), in some cases casting their role in a different light.

Jade (Loyalty)
Stealth assassin and Imperial Bodyguard. Jade's family traded her to Shao Kahn as a child. Though he was the only "parent" and master she ever knew, Jade refused his orders to kill her closest friend, Kitana. The Emperor turned against Jade. Now she vows to end his reign.

Erron Black (Thrills)
The best shot in Texas left home to seek adventure and excitement in Outworld with Kano and the Black Dragon. Outworld turned out to be the playground of Erron's ultraviolent dreams. He decided to make his home there as the deadliest outlander in Outworld.

Kabal (Avarice)
Fleet-footed Black Dragon enforcer. Kabal's sprinting speed is only outpaced by his greed. He was a rookie cop until Kano tempted him to sell out his police department for cash money and a spot in the Black Dragon. Kabal has run down anyone who's crossed Kano ever since.

Sub-Zero (Redemption)
Grandmaster of the Lin Kuei clan. Kuai Liang beat death to redeem his clan for the evil committed by Sektor and the Cyber Lin Kuei. He rebuilt the Lin Kuei and brokered peace with their Shirai Ryu rivals. Now, he hopes to finally close the book on sins of Lin Kuei past.

Scorpion (Vengeance)
Grandmaster Scorpion of the Shirai Ryu. Driven by rage, Hanzo Hasashi went through Hell and back to avenge his family and clan, never resting until he cut down their murderer, Quan Chi. Now he leads a reborn Shirai Ryu, avenging those who cannot avenge themselves.

Baraka (Preservation)
War Chief of the nomadic Tarkatan tribe, a carnivorous people considered subhuman by the Outworld Empire. Baraka dutifully serves Shao Kahn to preserve his tribe's way of life, who roam the harsh Wastelands, meat carts in tow, consuming everything and everyone in their path.

Raiden (Security)
Immortal God of Thunder, Protector of Earthrealm. Raiden has saved Earthrealm time and again by rallying the bravest and strongest warriors of the day to defend it. After centuries of kombat and bloodshed, he fears unintended consequences for humanity, and himself.

Shao Kahn (Dominance)
Emperor of Outworld. For millennia, Shao Kahn dominated the realms, rapidly expanding his Empire by conquest. But when he set out to claim Earthrealm, he was blocked by the rules of Mortal Kombat. Deterred but determined, Shao Kahn demands absolute victory.

D'Vorah (Survival)
One among many Kytinn, a swarm of sentient insects who share a hive mind. D'vorah has served Shao Kahn, Kotal Kahn, and Shinnok, but her true allegiance is to the swarm. She lies, cheats, and backstabs so that when everyone else has died, the Kytinn hive will survive.

Geras (Service)
An artificial construct, built by Kronika, he faithfully serves her goal of restarting time and rewriting history. By Kronika's design, Geras exists as a fixed point in time. Every time Geras is killed he is reborn, each time becoming more resilient against the manner of his death.

Kano (Greed)
Arms dealer and leader of the Black Dragon. Kano prides himself as the ultimate deal- maker, with a black market network that spans the realms, but he is never satisfied. Even his loyal followers know he'd stab his mother in the back if the price was right.

Cassie Cage (Approval)
The offspring of Johnny Cage and Sonya Blade laid the smackdown on Shinnok a few years back, but even that wasn't enough to escape the shadow of her legendary parents. Whenever Cassie isn't defending Earthrealm, she's fighting to prove worthy of their legacy.

Skarlet (Acceptance)
Blood mage and Imperial Bodyguard. Skarlet was a starving wretch before Shao Kahn anointed her in blood. Reborn by his sorcery with an insatiable bloodlust and the power to feed it, her crimson cravings are rivaled by her desire for Shao Kahn's praise. She is his deadliest, most faithful creation.

Sonya Blade (Vigilance)
Decorated officer of the Special Forces. Sonya braved the Mortal Kombat tournament, defended Earthrealm, and rescued her partner, Jax Briggs. Serious to a fault, she never takes time for personal leave, preferring to remain vigilant until all realms are safe from conquest.

Johnny Cage (Vanity)
B-list celebrity, recipient of no acting awards. Following a string of lowbrow direct-to- VHS sequels to Ninja Mime , Johnny Cage's career peaked at the age of 28. Now, he fights against all odds to save Earthrealm and prove that he's an even braver hero in real life than on the silver screen.

Jacqui Briggs (Protection)
The daughter of Jax Briggs. Jacqui defied her father when she joined the Special Forces. Seeing what he sacrificed as a soldier didn't scare her. It stirred a desire to protect her family and her homeland. She hustles hard and punches above her weight, proudly carrying on the Briggs legacy.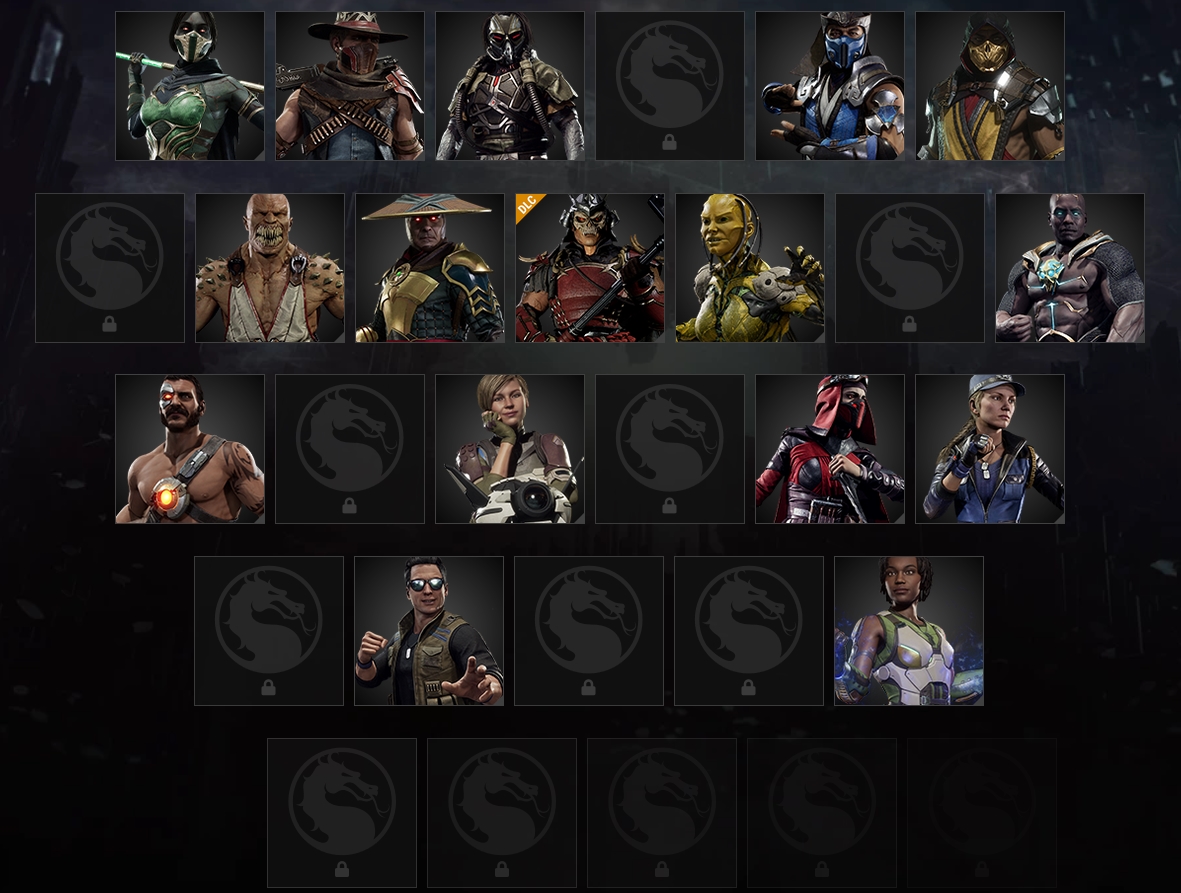 Noteworthy details include: Jade's parents trading her to Shao Kahn, as a child. Geras shares similarity twith DC Comics Injustice character Doomsday, evolving resistance to methods of defeat. D'Vorah's inherent treachery lies exposed in her MK11 bio. Cassie Cage may have mellowed as she seeks approval. Skarlet isn't just new and improved in appearance - she is now a being endowed with blood magic by Shao Kahn, rather than created from it.

Still missing from the lineup is Kotal Kahn, who was revealed in a recent Story Mode Trailer, and just debuted character art and a gameplay trailer. Who's next? Follow bio updates on the official website and share your thoughts on the Mortal Kombat 11 forum!