With first word of an animated sequel arriving via online retailers comes official confirmation of Mortal Kombat Legends: Snow Blind! Voice actors reveal a cast of Black Dragon rogues and our first look at a wandering swordsman. Take a look:
The IGN exclusive reveal shows a squatting swordsman opposite a burly traveler in a barren landscape. This seems to be Kenshi, who arrives as a new focal character voiced by Manny Jacinto. The sword saint will seek the snowy services of Sub-Zero, now voiced by Scorpion actor Ron Yuan, having turned his back on a warrior's life since last year's sequel.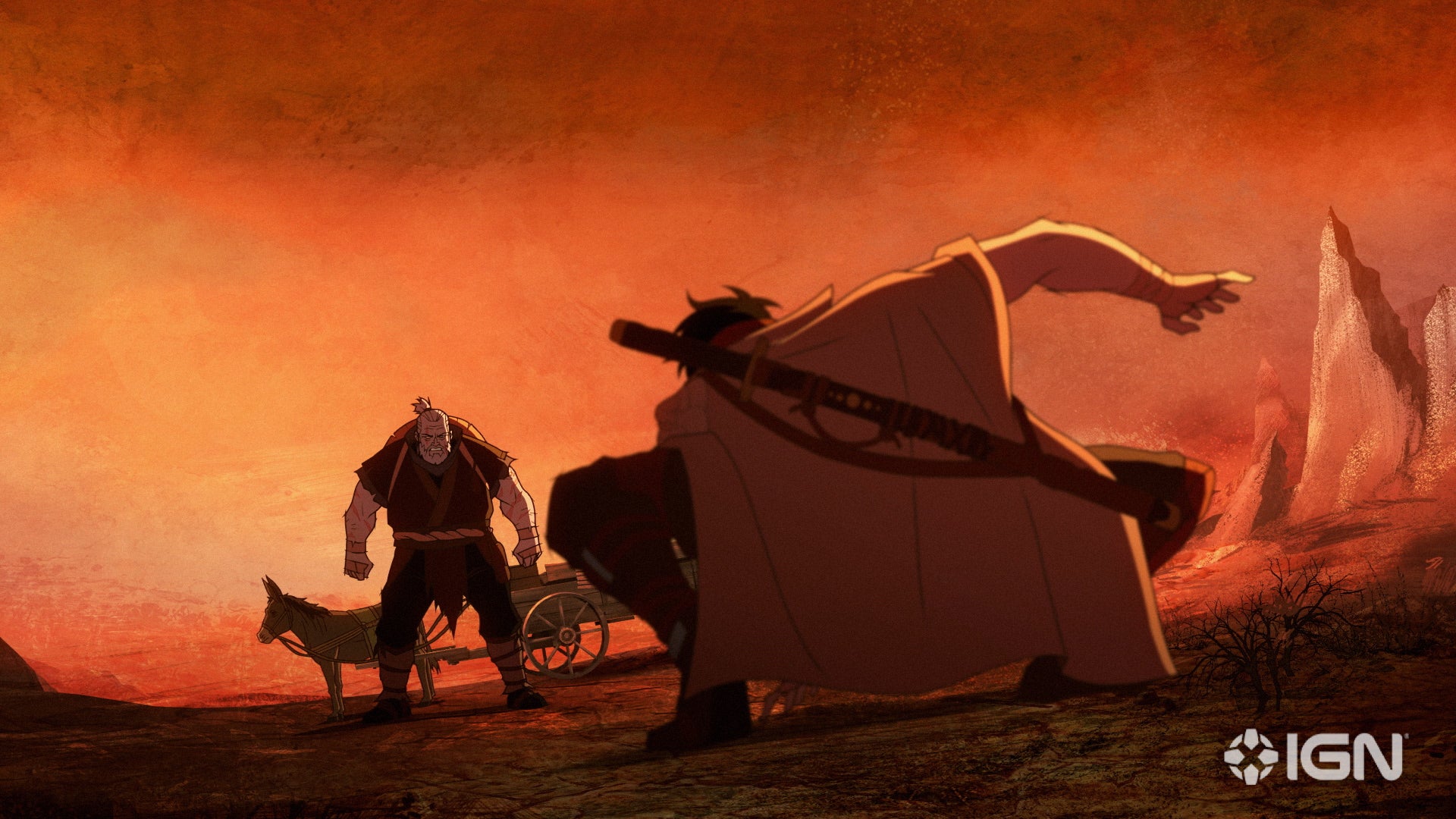 The criminal mercenary Kano returns as a surprising force determined to conquer Earthrealm one town at a time. The MK Legends animated universe will recast Kano as the one responsible for taking cocky Kenshi's eyesight, flanked by a full roster of Black Dragon mercenaries confirmed by IGN's cast reveal. Rick Morales will produce his third animated MK installment, with screenwriter Jeremy Adams also returning from Scorpion's Revenge and Battle of the Realms.
Kenshi - Manny Jacinto
Kano - David Wenham
Sub-Zero/Kuai Liang - Ron Yuan
Kabal - Keith Silverstein
Kira - Courtney Taylor
Kobra - Yuri Lowenthal
Shang Tsung & "Lin Kuei" - Artt Butler
Tremor - Imari Williams
Unspecified - Patrick Seitz, Lei Yin, Sumalee Montano, Debra Wilson, and Keston John
Lord of the Rings and 300 star David Wenham will lend a distinct voice familiar to Australians and international audiences alike. The Black Dragon will fill out their number with Mortal Kombat: Deception recruits Kira (Courtney Taylor) & Kobra (Yuri Lowenthal), with Special Forces & MKX cult favourite Tremor (Imari Williams). No word on Jarek, Tasia, or No Face, with several actors unaccounted for.
In Mortal Kombat Legends: Snow Blind, Kano is hellbent on taking over Earthrealm, viciously attacking town after town with the aid of three cold-blooded Black Dragon mercenaries. Those who don't submit are annihilated. One young man won't bend the knee to Kano: Kenshi.

Cocky and undisciplined, Kenshi loses both his eyesight and his confidence after Kano and his clan attack him. Kenshi then comes under the tutelage of Kuai Liang, now retired and reluctant to train Kenshi – but also the only fighter powerful enough to challenge Kano.

Along the way, Kenshi rediscovers the hope he had lost and a possible path to redemption … but will that be enough to stop Kano and save Earthrealm?
What do you think about the Snow Blind plot so far? Share your thoughts and speculation in the comments below and check out more from MK Legends in the Media & Merchandise forum!