Homelander is one of three comic book guest characters coming to Mortal Kombat 1 as downloadable content -- but don't expect to hear the familiar voice of his live-action counterpart! Actor Antony Starr has ruled out his involvement with the upcoming video game crossover. Read on for details:
Since 2019 the Kiwi actor has menaced as a Superman-esque superhero with an extreme dark side on Amazon Prime's The Boys. He appeared most recently in the live-action spin-off series Gen V -- both shows based on the 2006 comic book created by Garth Ennis and Darick Robertson.

The breakout success of the character has led Antony Starr to lend his voice to a 2022 animated version in The Boys Presents: Diabolical, and in a video game appearance in Call of Duty: Modern Warfare II earlier this year -- but in a recent Instagram reply he confirmed the same won't be true for Mortal Kombat. Reddit user ZeroDarkPurdy14 captured the short, sharp reply pictured below: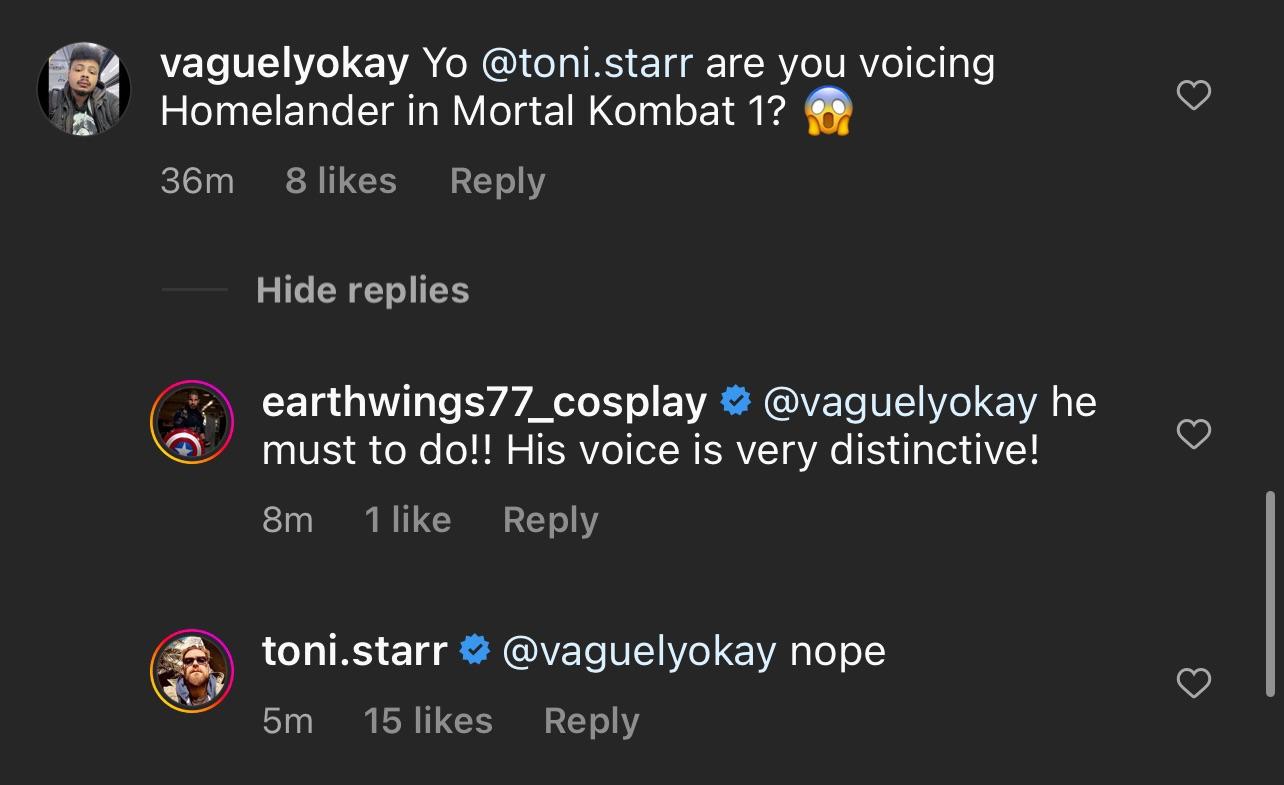 It's not the first time Mortal Kombat has had to get creative with its guest characters: Mortal Kombat 11 was forced to find an Arnold Schwarzenegger impersonator when Terminator's T-800 crossed over with the actor's likeness. A compromise that led to mixed reviews, but avoided the confusion and mess that came from a prospective Evil Dead crossover.

Mortal Kombat 1 has had better success with some of its other cross-promotion, boasting Jean-Claude Van Damme voice & likeness for Johnny Cage, and Academy Award winning actor JK Simmons reprising his role as similar comic book menace, Omni-Man.
Will this diminish Homelander's appearance in upcoming downloadable content? Share your thoughts in the comments below and dig deeper into the discussions in the Mortal Kombat 1 forum.