They say the early bird catches the worm, and a domestic morning start for the reveal of Mortal Kombat 11 Ultimate and Kombat Pack 2 succeeded in capturing the attention of a global audience! The announcement generated two of the Top 10 global trends, dominating discussion in the United States over breakfast. Read on for details:
Proving the power of cross-promotional guest characters was Rambo, who reached at least the 6th highest Worldwide Trend in the hours after an explosive reveal trailer.

The iconic Sylvester Stallone character originated in 1982's critically acclaimed First Blood adaptation, amassing an international fanbase over a series of five films. The built-in audience no doubt helped push cinema's troubled war veteran beyond trailored "Trends For You" into genuine topical talking points.

Mileena dominated domestic trends for the United States, but not before she was a global phenomenon as the 9th most talked about topic on Twitter [pictured below].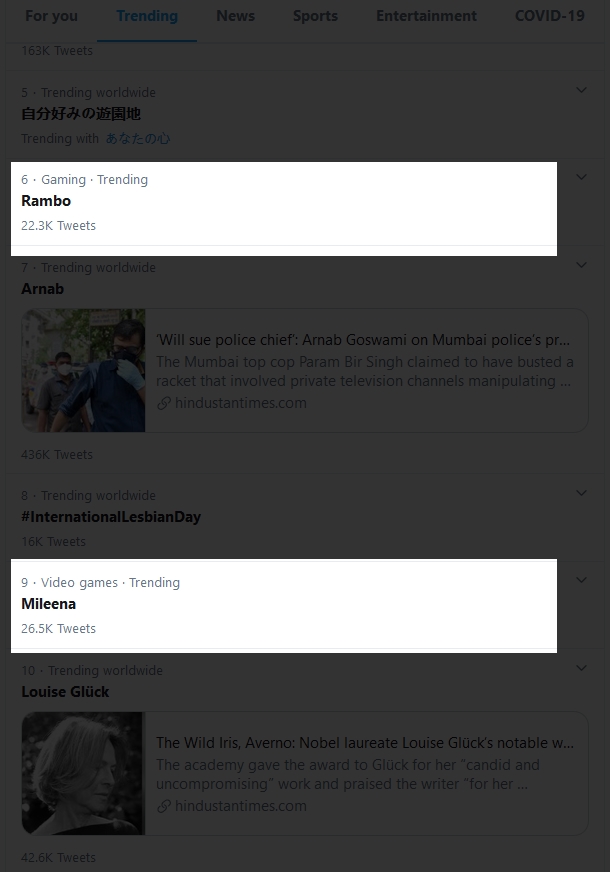 Mileena isn't the first Mortal Kombat character to achieve the feat in the social media era. Johnny Cage benefitted from a similar early start in 2019 when his midnight Mortal Kombat 11 reveal trailer became a worldwide sensation.

This time the returning kombatant was helped by a massive social media campaign launched by NetherRealm Studios. Along with a pre-trailer teaser preparing fans, the @MortalKombat account undertook a swath of personalized replies to tweets requesting Mileena as far back as January 2019.

Mileena has become a staple of social media replies to Mortal Kombat news over the course of the game's lifespan. Creative Director Ed Boon could discuss few subjects without being inundated with Mileena requests, leading to an April Fools joke ruling her out indefinitely. Mileena was killed in Mortal Kombat X, but conspicuous by absence among Mortal Kombat 11's time displaced warriors.

Were you there to witness the debut of the Kombat Pack 2 trailer? Become an influencer by joining the discussion on the Mortal Kombat 11 forum and clicking the toasty thumbs up to like your favourite news and comments!