Somewhere in the wilds of Australia the new Mortal Kombat movie is now deep into production. The live-action reboot will boast a roster of anticipated classic kombatants, but the latest casting confirmation has revealed someone fairly unexpected: NItara! Read on for details:
A behind-the-scenes Instagram video posted by Liu Kang actor Ludi Lin tipped fans off to the surprising inclusion. The clip features a tour of the actor's trailers, each labelled with their respective character's name, including a quarters shared by Nitara and Mileena.

Responding to fans via Twitter, writer Greg Russo clarified that stunt performer Elissa Cadwell (Aquaman) will play Nitara. Australian actress Sisi Stringer was announced in the role of Mileena back in August.
Nothing gets by you guys. She'll be played by Elissa Cadwell. @ediestar84 #sharpenyourfangs https://t.co/V5y7L1LI1G

— Greg Russo (@WriterRusso) November 11, 2019
Rumors of Nitara's inclusion in the film first surfaced with an alleged script leak last year. The report was quickly condemned by producer James Wan and Mortal Kombat co-creator Ed Boon. Its source was revealed to be part of an early script draft, by writer Greg Russo.

Nitara was first introduced to the series with 2002's landmark Mortal Kombat: Deadly Alliance. She was a winged vampire seeking to liberate her realm, later dubbed Vaeternus, from its merged status with Outworld. Her mission led to the manipulation of Cyrax and Reptile.

The inclusion will come as a surprise to most fans, who anticipate a retelling of the early tournament mythology of the series. Nitara had little to do with that period of the saga, which may suggest a minor appearance in the 2021 film. Other anachronistic characters previously reported to appear include Reiko and Drahmin.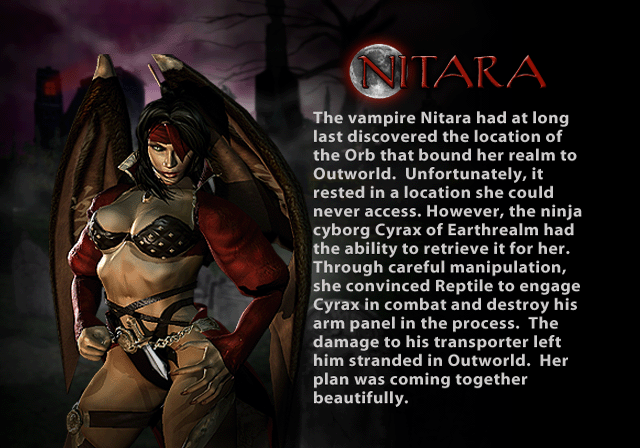 Nitara's first bio screen from 2002 debut Mortal Kombat: Deadly Alliance
Mortal Kombat began filming in September with director Simon McQuoid for a theatrical release March 5th, 2021. Check out the new movie dragon logo and follow all the news and discussion in the Media & Merchandise forum!