"It is almost time" was the title of a recent teaser trailer and its the bio line for the official Mortal Kombat twitter account -- but that's not all that's new for MK social media. A changing of the dress begins the ritual of a new game, but what does a blank avatar and header mean? Get your speculation started -- it's almost time!
It's almost like a spotlight waiting for a subject, but the emergence of a white avatar and header on the official Mortal Kombat Twitter page suggests much, while revealing little. We've included a screenshot a little further down for posterity.

They've already pretty literally told us it's almost time, but we could take it that the whiteout means something is imminent. How imminent? Chief Creative Officer Ed Boon has literally spelled out that "this week should be fun", while online rumor mongers are talking up tomorrow.

As much as we would discourage from investing too heavily in unverified sources, there's some precedent for a quick turnaround, in this case. Back in 2014, Ed Boon switched to a white avatar immediately before switching it out to reveal new Mortal Kombat X dragon logo! Update: ... and just like that, they boldly confirmed Thursday - it is time!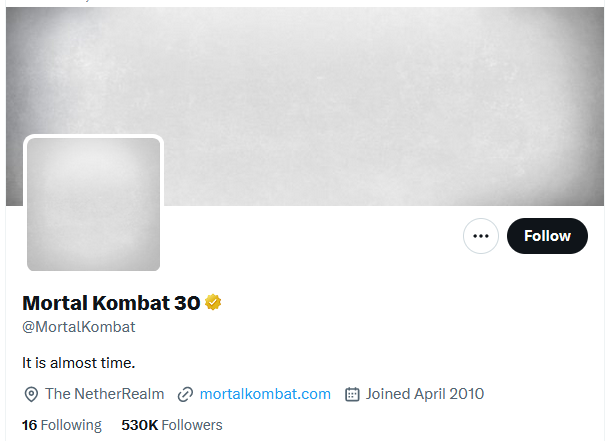 Could there be deeper meaning hidden within the blinding white abyss? Gaze long enough and you'll see some squiggly pixel artifacts before they begin gazing back at you, but with all this talk of something being "almost" time, and the expoding sands of the MK30th celebration -- perhaps time is of the essence?

The new Mortal Kombat was confirmed in February during a Warner Brothers Discovery press call, and will 'make sense' according to Ed Boon. We haven't made sense of his mysterious online broadcast, but the head of NetherRealm has already teased a returning character.

What do you hope to see from the next game? Share your wildest theories in the comments below and find & discuss more teasers and speculation in the Future Mortal Kombat forum! It's almost time, kombatants!