The metaphorical door to NetherRealm Studios swung open to fans over the weekend as Chief Creative Officer Ed Boon welcomed fresh questions from die hards via Twitter. He technically revealed their next title in his last Q&A -- and had plenty of interesting things to say about character's futures and when we'll see the new game revealed! Read on:
The countdown is officially on with Boon describing an announcement within the next six months as 'likely'. He ruled out any news before or on New Year's Day, broadly hinting at 2023 with several less than cryptic responses: "I really shouldn't 23-answer that.".

A terse "yes" seems to have confirmed that the next Mortal Kombat sequel will find a way to continue on from where the reality-altering Mortal Kombat 11 left off. Whether that means some kind of in-fiction reset like the Mortal Kombat (2011) opener that set up a new timeline -- or a direct continuation of "Fire God" Liu Kang's visitation to the ancient Kung Lao -- remains to be seen.

Challenged to name the first initial of a character returning in the next MK, Ed offered up the tantalizing answer of "L". This seemingly narrows it down to Liu Kang and Li Mei. The latter was last seen during the Mortal Kombat X story mode, and isn't a complete outlier for one very good reason.

Following up on previous remarks, Ed confirmed that there will be "3D era" characters in the next Mortal Kombat sequel. This clarified past comments, eliminating a contextual technicality that might relegate rarely seen Deadly Alliance, Deception, and Armageddon fighters to an exclusive return in the upcoming Mortal Kombat: Onslaught mobile game.

Asked if One Being or MK11's Kronika were older, Ed didn't know. Fans have grappled with this oblique corner of the Mortal Kombat canon since its introduction in Mortal Kombat: Deception. The One Being's status as the totality of all things in existence challenges the Elder Gods and the more recently introduced Titan of time. A far more lofty cosmic concept than the giant Shinnok depicted in Mortal Kombat Legends: Battle of the Realms.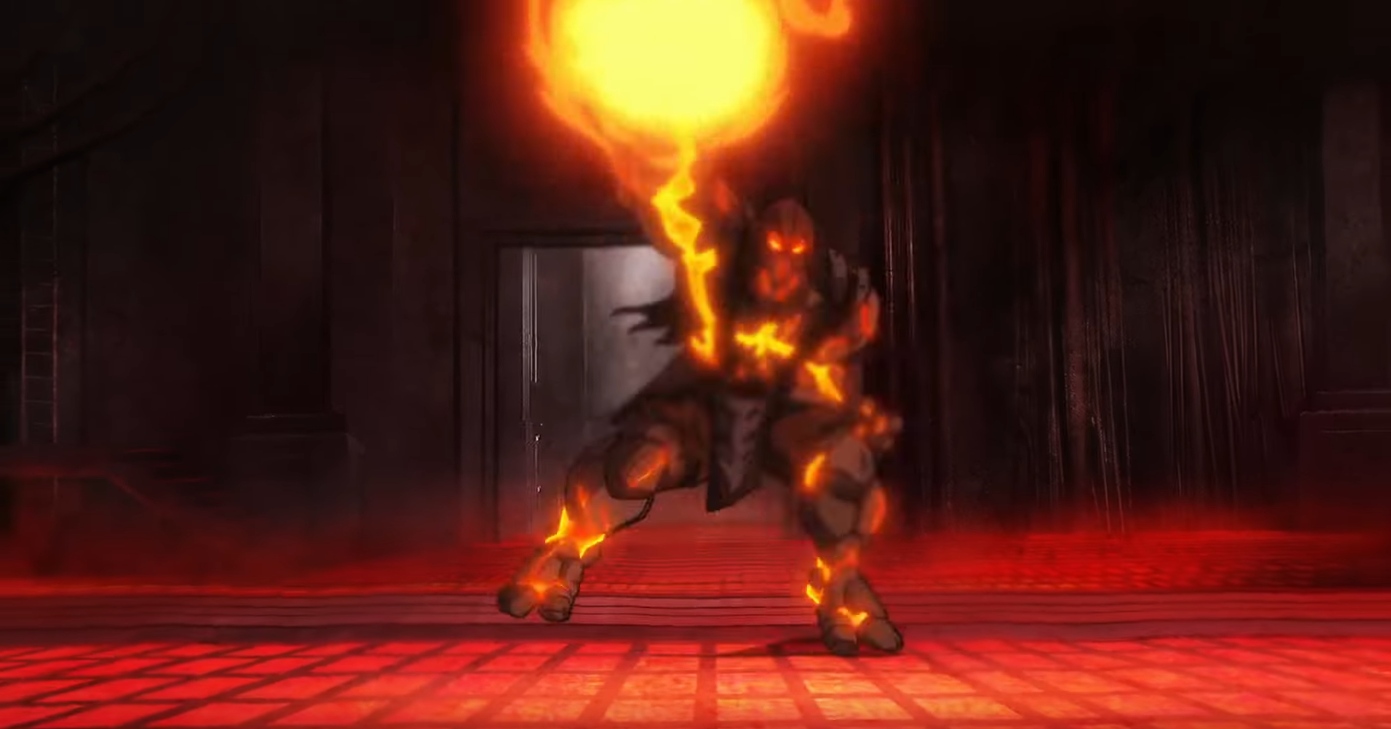 Tremor as he appears in Mortal Kombat Legends: Snow Blind
Fans eager for confirmation of their favourite characters brought forth a volley of measures. Tremor once again emerged as "very very likely" to return. Kabal elicited a "perhaps?", with "stay tuned" questions hanging over Stryker, Cassie Cage, and Tanya. The developer couldn't answer regarding Skarlet, shouldn't answer regarding Mileena, but deemed lopsided demon Drahmin unlikely to return. He "can't imagine we've seen the last" of Sareena, and thinks we'll "prolly" see Shinnok playable again some day. Issued an either/or, Boon also said he was more hyped for Reiko than stalwart Shao Kahn -- not necessarily in an MK12 context.
Twitter user @dannyboi_9 asked about the interruption of NetherRealm Studios' usually regular release schedule, prompting one of the more indirect responses from the development lead, who acknowledged complications related to the on-going COVID-19 pandemic "and the world around us". Ed described factos as "[m]ost of which I'm not at liberty to talk about", possibly alluding to, among other things, the impact of WarnerMedia's corporate merger with Discovery.

He did note that there was "kind of" more planned for MK11, but rather than dwell on the somewhat abrupt end, Boon noted that expectations for the next game "should" see post-release content support extended even further than MK11's record! Mortal Kombat 11 enjoyed eleven downloadable characters and the developers' first DLC story mode - Aftermath.
MK11 support was the longest we supported a game. Next game should be even longer.

— Ed Boon (@noobde) December 11, 2022
Asked if the developer could remaster klassic compilation title Mortal Kombat Trilogy; Boon acknowledged that it is within their means, but he would personally rather revisit the first three installments "applying everything decades of experience and learning to those 3 (+ultimate) titles".

Prospects for a full Mortal Kombat (2011) restoration also seem unlikely. The game would require a remaster, with the addition of GGPO to online play adding to "no small task". He also expressed a desire to do something different to 3D era remasters, posing the idea of 2D versions. Surprisingly, the MK4 remake is "definitely on my bucket list".
[Related Article: Cancelled Mortal Kombat Remastered Screenshots Emerge]
On the subject of MK's 30th Anniversary, Boon had little more to add, but when next April's tenth anniversary for Injustice: Gods Among Us was raised, Boon offered an emphatic: "We SHOULD do something". Boon himself was responsible for the most noteworthy MK30 anniversary material, sharing behind the scenes footage of the first game, with a retrospective from the developer. The absence of significant celebratory products, perhaps the legacy of WarnerDiscovery's upheaval.

A developer's desk photograph sparked a lot speculation early this year, but on the possibility of another Mortal Kombat/DC Comics throwdown, Ed responded "I doubt it" to the prospect of ever seeing a follow-up to the ill fated 2008 crossover. Even so, he apparently liked The Joker in MK11, and "can die" if Marvel ever gives the thumbs up to a MK/DC crossover.
Guest characters in their contemporary releases proved a hot topic, with Boon even entertaining the question of whether they should revisit characters from past titles. Horror rivals Freddy Krueger and Jason Voorhees were bafflingly included in separate games, with Ed presenting the alternate example of eighties sci-fi icons: "Imagine a DLC pack featuring Alien, Predator, Robocop and Terminator."

The Q&A revisited near misses for Buffy the Vampire Slayer, Michael Myers, Alien's Ellen Ripley, and Terminator's Sarah Connor. Ed also noted he "should really try to to get the OK to explain the Ash situation" regarding a seemingly aborted Evil Dead crossover for MK11. Future prospects deemed suitable good ideas included dream guest Ryu from Street Fighter, Overwatch's Doomfist, and The Boys' comic book fascist Homelander. Berserk's Guts was too deep a cut.

Injustice fans also got to find out that Beast Boy is a strong contender if Injustice 3 were made, and Clayface and Killer Croc have allegedly never been considered for the playable roster, but are "not a bad idea". The latter has featured as an MK11 Baraka skin, and arena transition character in both Injustice: Gods Among Us and Injustice 2.
When do you think we'll see an official announcement and what do you think it will be? Share your thoughts about all these details and revelations in the comments below and keep speculating in the Future MK Games forum!