The Mortal Kombat movie reboot has started to give up some of its secrets, but even with an official synopsis and first-look photos -- there is still much to be discovered from the April release! A behind-the-scenes photo appears to reveal a towering figure manhandling one of the series' klassic fighters. Beware of spoilers all ye who enter:
The photograph has been circulating across social media networks, with the earliest available source a Twitter user named João Henrique. The image shows monitors during the filming a scene that appears to depict Jax in the clutches of a large, hammer-wielding warrior who is purported to be Reiko.

Mehcad Brooks, or a stunt double, can be seen in a suspension harness to allow him to be effortlessly raised by his opponent in a goozle grip. His torso is blue to facilitate special effects, either the addition of something like his metal arms, or perhaps an event that necessitates them. Jax' arms were removed in a similar battle with Goro in the recent animated feature.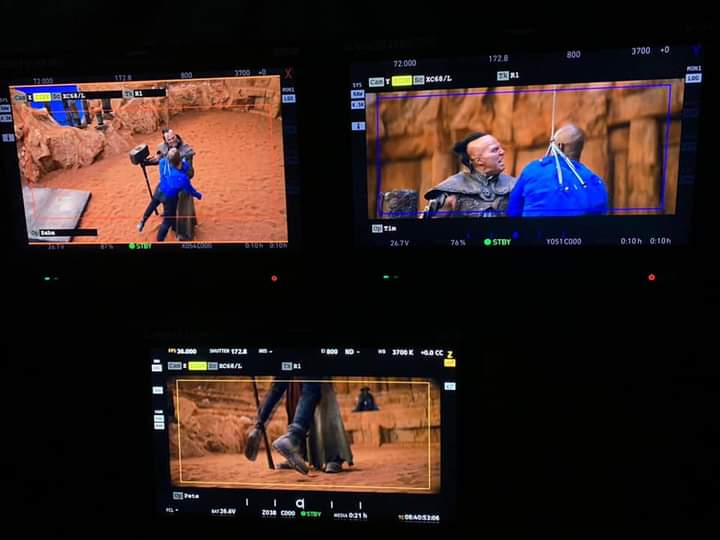 The big man is believed to be 6'11" Australian actor Nathan Jones. The former pro wrestler has appeared memorably in movies such as Mad Max: Fury Road and Troy, and has frequently alluded to filming Mortal Kombat in South Australia on his Facebook account.

The actor appears to have a rich, black sliver of hair atop his typically bald noggin, in a fashion that might conceivably be inspired by Reiko's appearance in Mortal Kombat: Armageddon.

Adding further credence to the claim that this might be Reiko is a previous script leak, and 2019 set visit by South Australian premier Steven Marshall, which appeared to show character artwork for Reiko, Goro, Reptile, and Kabal pinned in the background of a publicity photo [pictured below]. The scene also seems to match a first-look image released by EW showing Jax pushing against an unidentified fighter's large hammer.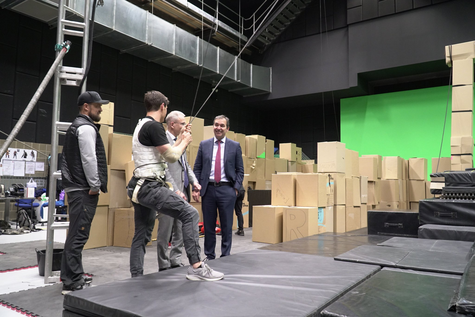 What do you think the behind-the-scenes photo shows? Share your thoughts in the comments below and discover more from the movie in the Media & Merchandise forum!