Next month's Mortal Kombat movie will present the latest re-imagining of the legendary martial arts tournament and its conflict between two realms. The red band trailer gave us a glimpse of several threats coming from Outworld. We've seen Mileena in action and a new report is giving hope that her identitical twin might factor in somehow, as well. Read on for details:
Syfy Wire was one of many outlets to visit the Australian set more than a year ago. Most of what they saw has been revealed in the trailer and promotional posters, but they report seeing an unidentified blue outfit in in the costume department, and Kitana style fans displayed by prop master Lisa Brennan.

Kitana is absent from the official synopsis and related promotional offerings, making the weapon sighting the most compelling evidence of at least a cameo by the Edenian assassin princess.

Similar on set reference material seemingly spoiled the inclusion of Goro, Reptile, and Kabal in 2019. All three characters appear briefly in the red band trailer, with SyFy Wire also reporting seeing an animatronic tongue and hookswords amongst the prop paraphernalia.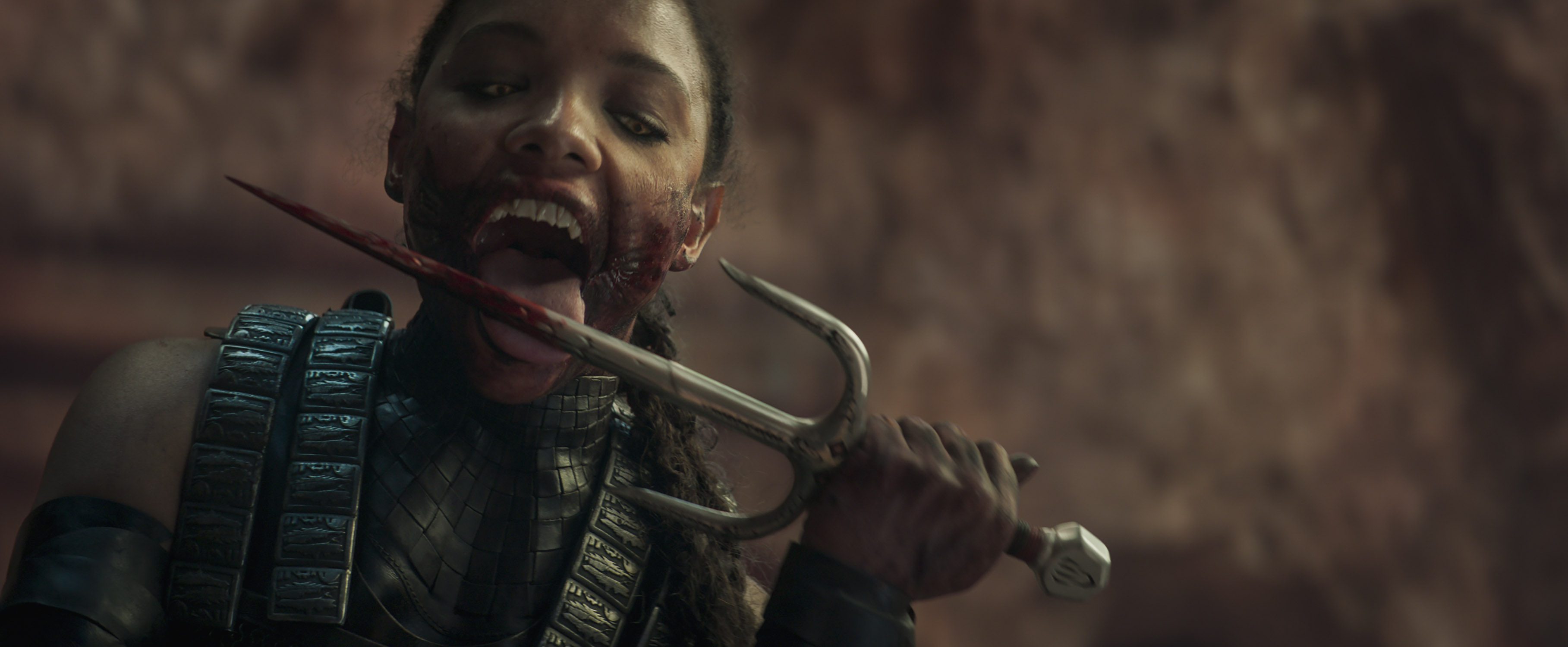 Kitana was first introduced in Mortal Kombat II, quickly becoming a mainstay of heroic efforts to defeat the forces of Outworld in sequels, and multimedia. She was frequently opposed by arch-rival Mileena: a hybrid clone that looks identical to Kitana save for a mouth full of jagged Tarkatan teeth.

Sisi Stringer plays Mileena in the upcoming movie [pictured above], seemingly lacking her iconic toothy maw in the trailer, and promo posters. Special effects artist Larry von Duynhoven told Syfy Wire: "The finished look will have her mouth sort of disengage in the way that it does in the game."

It naturally remains to be seen if the identical nature of Mileena & Kitana leads to a dual role for Stringer, who is ethnically cast against type. Bond girl Talisa Soto originated the role of Kitana in the 1995 adaptation, while Olympian Dana Hee appeared as a masked Mileena in the sequel.
[Related Article: Mortal Kombat 11 Ultimate Mileena Trailer]
Producer Todd Garner has discussed details of the omission of characters from the film's plot, confirming Edenian demigod, Rain, will not be appearing. Johnny Cage is also expected to be missing, although Syfy Wire quotes the producer saying: "I definitely will not say that there is no Johnny Cage in this movie".

Mortal Kombat is officially released in limited theatres and streaming to HBO Max in the United States on April 16th. Download the MKO App via App Store and Google Play to subscribe to the release event countdown and receive notifications to your device. Share your thoughts about this story in the comments below and find & discuss more in the Media & Merchandise forum!