The upcoming Mortal Kombat movie has scheduled an official unveiling for its long awaited preview trailer this Thursday. The announcement came with posters featuring Sub-Zero and Kano from the movie. Read on to take a look:
Fans have been tantalized with an Entertainment Weekly feature, official promotional photos, and snippets of footage, but the first full trailer arrives Thursday, February 18th at 9:00AM Pactific Time. Joe Taslim and Josh Lawson were featured in social media posts making the official announcement.
The original posts feature limited particle animation over the posters and a red glow over the film version of Kano's trademark cybernetic eye. Updating: ... And now we have Sisi Stringer as Mileena. Add Max Huang as Kung Lao, Lewis Tan as Cole Young, Chin Han as Shang Tsung, Jessica McNamee as Sonya Blade, Ludi Lin as Liu Kang, Tadanobu Asano as Raiden, Mehcad Brooks as Jax Briggs, Hiroyuki Sanada as Scorpion. Tweets with the hashtags #MortalKombat or #MortalKombatMovie also now appear with a gold dragon logo [pictured below].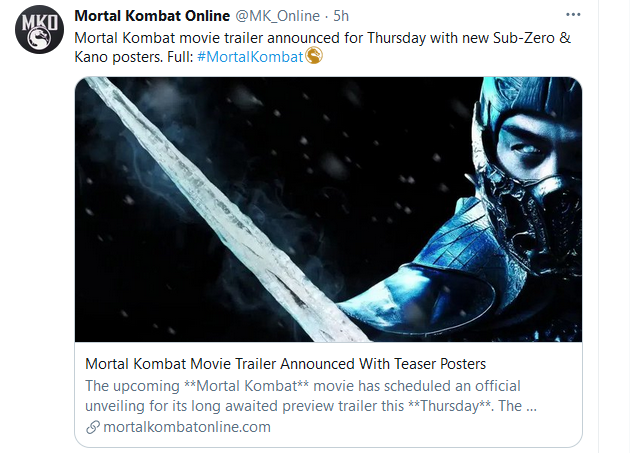 The trailer will arrive two months ahead of a simultaneous limited theatrical release and HBO Max premiere on April 16th. Subscribe to the release countdown to count the days and find & discuss more stories from the movie in the Media & Merchandise forum!